Loire Valley Tasting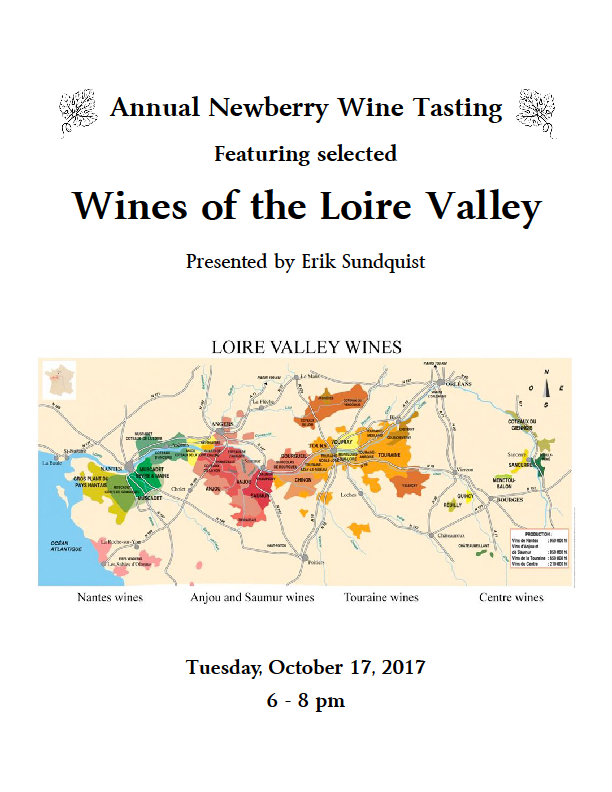 SPARKLING WINE Touraine
The sub-region known as the Touraine covers the largest area in the central Loire between Orleans and Tours and boasts 13 appellations controllées. The principal grape for red wine is Cabernet Franc, locally known as Breton, but Gamay, Malbec (called Côt), and a small amount of Cabernet Sauvignon are also cultivated. Whites and sparkling wines are made primarily from Chenin Blanc, which in France is almost exclusively found in Touraine and Anjou, Sauvignon (known as Sauvignon Blanc abroad), and some Chardonnay used in blending.
Vouvray The charming town of Vouvray, on the right bank of the Loire opposite Tours, is the center of one of the Loire's most ancient and best-known vineyard districts. As in all the Loire vineyards, grape cultivation goes back to ancient times. Vines here are attested in 372, when St. Martin, Bishop of Tours, planted some around the monastery. The appellation applies only to wines from the Chenin Blanc variety grown in any of 8 communes, but they can be still or sparkling and range from bone dry to lusciously sweet. The vines are planted directly above the town, on the broad south-facing plateau called tuffeau, consisting of chalk and clay over a deep bed of porous limestone.
The Town of Vouvray
Vouvray vineyards at harvest time
Vouvray Mousseux AOC "Méthode Traditionelle" 2013 $20.00 Dom. Christophe Thorigny
This sparkling Chenin Blanc comes from part of a 10.5 hectare estate in the family for four generations located on tuffeau, a formation that affords excellent root penetration and drainage. Grapes from different parcels are vinified separately and then blended in the spring according to the characteristics obtained. Vinification, "Champenisation," and aging take place in a large cave hollowed into the soft rock.
Eye
Nose
Mouth
General Assessment
WHITE Pays Nantais
This Atlantic maritime region around the city of Nantes is the westernmost AOC in France. It is composed of a variety of rocky soils. Although other minor AOC wines are produced here, the most important is Muscadet, named for the grape, locally known as Melon de Bourgogne, a white cousin of gamay imported from Burgundy. After fermentation, the wines are commonly left to macerate on the lees in tanks for up to 14 months before bottling, a feature indicated by the designation "Sur Lie." This method gives them better acidity and the slight "pétillance," or tingle.
Eye
Nose
Mouth
General Assessment
Muscadet de Sèvre et Maine Sur Lie AOC $20.00 Dom. Claude Branger "Terroir Les Gras Moutons" 2015
Branger's estate comprises 25 ha. in various sites, nearly all now certified organic. This wine comes from a 7 ha. vineyard the name of which refers to a large prominence rather than a fat sheep. Yields from the 50-plus-year-old vines are low. Muscadets have been steadily improving in ripeness, complexity, and age-worthiness as summers get warmer.
WHITE Anjou
Anjou is the region around the château cities Angers and Saumur west of Tours. It produces dry, sweet, and sparkling white wines from Chenin Blanc and reds and rosés from Cabernet Franc. It embraces a number of superior appellations including some of the world's great sweet wines from the Coteaux du Layon, especially appellations Bonnezeaux and Quart de Chaume. Savennières is a small appellation on the left bank of the river producing arguably the greatest and longest-lived dry white wine from Chenin Blanc grapes. There are also fine reds from Saumur and Saumur-Champigny, and the enchanting semi-dry Rosé d'Anjou, based on Cabernet Franc.
Eye
Nose
Mouth
General Assessment
View of Saumur and the Château
Saumur blanc AOC Dom. du Pas Saint Martin "Pierres Frites" 2015 $16.00
Laurent Charrier took over the operation of this estate in 1994 and began converting to organic farming, receiving the certification in 1997. The vineyards are scattered in small parcels in the different appellations of Anjou, Saumur, and Coteaux du Layon. This wine comes from Chenin Blanc vines 15 to 35 years old planted on the silica-rich limestone tuffeau. The must, or unfermented juice, is vinified in temperature-controlled stainless steel vats with extended maceration on the lees. As is standard with white wines of the region, there is no secondary malo-lactic fermentation, which converts the natural malic acid of grapes to softer lactic acid. Thus the common feature of Loire wines is crisp and bracing apple-like acidity.
WHITE Centre-Loire
The sub-region referred to as the Centre-Loire consists of a number of small appellations on or near the upper Loire east and south of Orleans, in the geographic center of France. Of these, the most prominent are Sancerre and adjacent Pouilly-Fumé, which are not very far due west of Chablis, with whose wines they share some qualities. The principal grapes here, however, are Sauvignon instead of Chardonnay for whites and Pinot Noir for red. Wines from Pouilly-Fumé, which are only white, are said to be typically softer, rounder and less vegetal than those of Sancerre, but even natives cannot always tell them apart.
Eye
Nose
Mouth
General Assessment
Pouilly-Fumè AOC Dom. de Bel Air 2015 $22.00
The Sadon family and its descendants have been vignerons in the district since 1635, but established the current Domaine de Bel Air in the late 19th century. It consists of 15 ha. of Sauvignon vines in two communes in the heart of the appellation on slopes facing south and southeast. Soil is partly Kimmeridgian marl with oyster shells, similar to that of Chablis, and parts are clay-lime and sandy lime. The winter of 2104-15 was the warmest in a century and the spring and summer were warm with sufficient rain early on followed by dangerously dry weather until the end of August, when late rain provided needed water. The result was a very good harvest in the second week of September.
Eye
Nose
Mouth
General Assessment
RED Touraine
Touraine Côt AOC Dom. Baron "Vieilles Vignes" 2014
Something of a rarity, this wine is 100% Côt, a southwestern variety elsewhere known as Malbec and once more widely planted here. Jean-Pierre Baron's estate consists of 13 ha., but this wine comes from a single hectare of 35-year-old vines on a south-facing slope on limestone and clay soil. The grapes mature in early October, when they are harvested, destemmed, and macerated for 8 days then racked off the lees to finish fermentation, avoiding astringency from over-extraction of tannins. The wines are then aged in large tanks and bottled in July.
Chinon
Celebrated by Rabelais, the wines of AOC Chinon now come from over 2,400 ha. of vines in 19 communes on both sides of the River Vienne, to the south and west of the town of Chinon. The appellation includes red and rosé wines made from Cabernet Franc as well as white from Chenin Blanc. Vines are grown both on the higher limestone plateau, or tuffeau, and on the lower plain of sand and gravel called graves or graviers. Wines from the former are leaner, more elegant and longer-lived; those from the latter more supple and fruit-forward.
Eye
Nose
Mouth
General Assessment
Chinon AOC Dom. Jean-Maurice Raffault "Les Galuches" 2016 $18.00
The Raffault family has been established in viticulture for 14 generations, since an ancestor acquired the first vineyard in 1693. Jean-Maurice inherited a mere 4.5 ha., but expanded his holdings to 50 ha. in scattered parcels in 7 communes. They are farmed with minimal intervention, no chemical fertilizers or pesticides. Each parcel is vinified separately to retain the typicity of the different terroirs. Galuches is a specific place name in the graves. Grapes ferment macerating for 15 to 28 days and then spend 18 months in 10-year-old oak barrels.
Raffault wines are aged in three former quarries carved into the limestone cliffs
Bourgueil
Vineyards of Bourgueil, on the right bank just opposite Chinon, date back at least to 900 C.E. and cover 1,350 ha. in 7 communes and are farmed by just over 150 growers. Only red wines from Cabernet Franc, about 70,000 hl., and a small amount of rosé are produced under the appellation, with yields officially limited to 55 hl./ha.
Eye
Nose
Mouth
General Assessment
Bourgueil AOC Dom. Bruno Dufeu "Grand Mont" 2014 $16.00
Bruno Dufeu makes his wine from two mostly organically farmed parcels totaling 12 ha. One is on the lower slopes where the soil is sand and lime, and the other, "Grand Mont," is on the higher tuffeau. Aggressive pruning achieves yields lower than the maximum. Grapes are destemmed and gently pressed (to avoid harsher tannins), then fermented in stainless steel vats from 10 to 14 days. The combination of old vines and attention to quality produces wines that are elegant and long-lived.
Eye
Nose
Mouth
General Assessment
SWEET WHITE Touraine
Vouvray AOC Dom. Christophe Thorigny "Grande Tradition"
Most of the Vouvray encountered in the US is demi-sec still wine, but there are also sec, pétillant (slightly effervescent), sparkling brut and demi-sec, and luxuriously sweet, all from Chenin Blanc. Of these five types, the rarest and most celebrated are the moëlleux and liqueureux. Here we have an example of the latter, a sweet wine produced only when the growing season is long and humidity encourages the production of botrytis cinerea, or "noble rot," which shrivels the berries, concentrating the sugars and adding an indefinable complexity to the balance of sweetness and acidity. The best of these, like the great Sauternes, can age seemingly indefinitely, but are said to reach their peak at about 40 years.
DACOR Bacon House 1801 F Street, NW Washington, DC 20006 202.682.0500 dacorbacon.org